The Honda Vigor is a 4-door, front-wheel-drive mid-size luxury sedan that was first introduced by the Japanese car company Honda in September 1989. It was built on the basis of the fourth generation model Honda Accord. Model Vigor had at that time a rather unusual appearance, and this won sympathy among buyers. The car was really popular and not only because of the external features. High demand contributed and increased by 85 mm, compared with the model Accord, wheelbase, which amounted to - 2804 mm. In general, the sedan is quite dimensional ball, its body length was - 4830 mm, width - 1781 mm, and height - 1321 mm.
Another distinctive feature of the Honda Vigor car from its fellow Accord was the engine and its placement. Under the hood, the Vigor was no longer installed four, but the five-cylinder 20-valve engine G25A I5, which in turn was located longitudinally (the Accord had a transverse engine). The power unit was of two options: the volume of 2.0 and 2.5 liters, whose power was 165 hp (at 6700 rpm) and 190 hp (at 6500 rpm), respectively. For engines, the manufacturer also offered two transmission options: a 5-speed manual gearbox and a 4-speed automatic transmission. The braking system included ventilated front disc and rear disc brakes, equipped with anti-lock braking system ABS.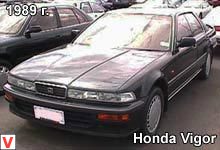 The front and rear suspension were multi-link and equipped with transverse stabilizers. As for the interior of the sedan Honda Vigor, it was quite spacious, well equipped and had a great design. The list of standard options included: power windows, power mirrors, adjustable steering column, air conditioning with climate control system.
In 1992, the car was somewhat modernized both externally and technically. This is especially reflected in the equipment of the cabin. Now, as standard, it was possible to meet the electric drive seats, driver and passenger airbags and many other options.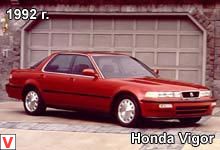 Also worth noting is the emergence of a traction control system. In the final 1994 model year, the car Honda Vigor underwent another minor changes that affected the suspension and steering. The suspension of the sedan has become softer, and the steering mechanism has been improved, which reduced the impact of road irregularities on the steering column.
Other autos category Honda