The small one-volume Honda Vamos belongs to the minimal class. It is based on a commercial model called Acty. The world first saw Vamos in 1999. Considered as a machine designed for spending free time, Vamos has everything that is necessary for a good rest. A car with a wheelbase of 2420 mm and very short body overhangs accommodates four people, and sliding doors make it easier to fit in the back seat. The very modest size of the car does not affect the comfort of passengers.
Thanks to the body structure, the Vamos has a fairly roomy interior with a flat floor. Special attention is given to the driver's seat, which is very convenient and comfortable and the driver of any build can fit in it. An attractive side of the car is a large luggage compartment. Standard equipment includes air conditioning, airbags, electric power steering and other equipment.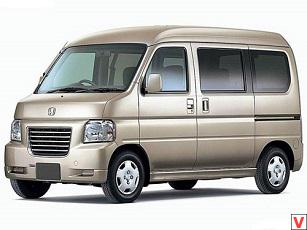 Two types of engines are installed on the Vamos: a 3-cylinder 12-valve engine with a capacity of 660 cm ³ SOHC: rear-wheeling atmospheric and turbocharged with four-wheel drive (4WD Real Time), 46 and 64 horsepower, respectively. The maximum speed of the car is 130 km / h. Turning diameter - 9 m.
Atmospheric engine fuel consumption: 6 liters per 100 km on the highway and 10 liters per 100 km in the urban cycle. The version with a turbocharged engine has a fuel consumption of 6.8 liters and 11 liters per 100 km, respectively. In 2001, the Honda Vamos is experiencing the first partial modernization, thanks to which it receives a new front end design. In addition to this change, the creators began to equip the interior of this model with new seats, these seats got the back, folding in the proportion of 60:40, and this fact helped to significantly increase the convenience of the cabin. Also appeared modification S Package.
In 2003, the second-generation Honda Vamos appears. In 2010, the model was subjected to another update. A new beige interior color has become available, and the dashboard has become two-color (black / beige). Also, all the updated cars have undergone suspension upgrades, equipped with 13-inch wheels 155 / 70R13 75S and a dashboard of a modified design with illumination. There was a driver's seat holder.
Other autos category Honda