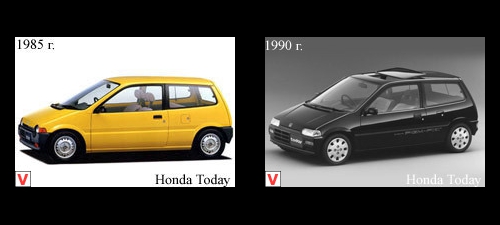 In September 1985, Honda expanded the class with the 3-door Today hatchback. The wheelbase of the car was 2330 mm. Until February 1988, a 2-cylinder OHC power unit with a volume of 545 cm³ was installed under the bonnet, after which it was replaced with a 3-cylinder engine with a displacement of 547 cm³. In 1990, due to changes in Japanese standards for small cars Today, we had to go through some changes. On the car began to install in-line 3-cylinder engine SOHC 656 cm ³. Significantly changed the front part of the body. Instead of two round headlights, the car acquired square optics and lost the grille.
Slightly increased external dimensions. With new bumpers, Today's length was 3295 mm. The internal equipment was updated, the interior improved. A four-wheel drive version was also produced (4WD FULLTIME with a viscous coupling). In January 1993, the second generation came out. Technically, it was a modernization of the first generation, dressed in a new elegant body.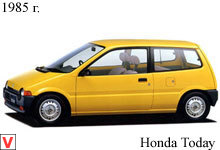 Honda Today is no longer produced in the back of a hatchback. The car received a unique body - 3-door sedan. On first glance, it seems to be one-dimensional, and on closer inspection, you can see the trunk disguised by a stand and a spoiler. Opened the trunk as a side of a pickup truck. The glass remains in place, and the "secret door" in the horizontal position is held on the cables. By the way, the boot volume was 120-130 liters. If necessary, it was possible to fold the back of the rear seat, thereby increasing the usable space, five times. Attractive front headlamps crown the front end of the body.
In the interior there are soft, pleasant colors. It is noteworthy that the cabin is asymmetric: the driver's seat is slightly larger than the front passenger seat. Potential buyers of Today are mainly young girls. The car differed by profitability and good running characteristics. In May 1993, a four-door version appeared, called Today Associe. The line of power units offered two engines: a standard 3-cylinder volume of 657 cm ³ and its top-end version with MTREC technology, borrowed from Honda Beat. Both engines were equipped with a five-speed manual transmission or a three-speed automatic transmission.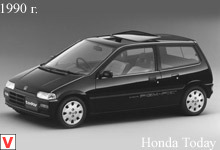 In 1996, Honda conducted a model facelift. The unique 3-door sedan body, with a tailgate like a pickup, was replaced with a regular hatchback, which resulted in significant design changes in the rear of the car.
Other images auto Honda Today
Other autos category Honda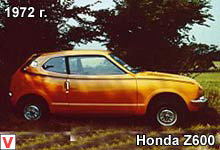 Honda Z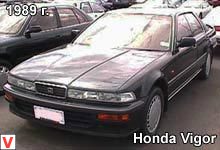 Honda Vigor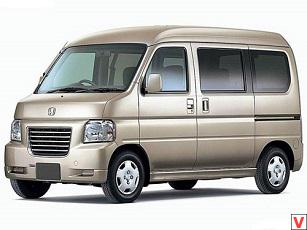 Honda Vamos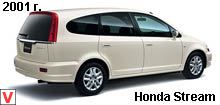 Honda Stream

Honda Shuttle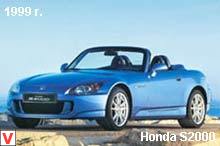 Honda S2000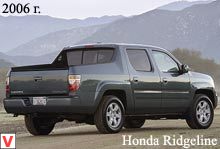 Honda Ridgeline