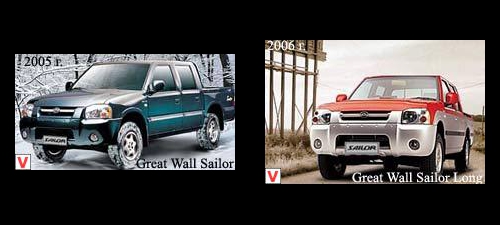 Great Wall Sailor - a four-door five-seater pickup of a new generation. The car differs in fashionable and smooth forms, crystal headlights and a new grille in the European style. The car is based on the Hover, and is structurally similar to the Isuzu TF.
Sailor is a harmonious combination of aesthetics and practicality. A spacious and comfortable interior can compete with a passenger car in its comfort: there are leather seats, power steering, electric windows, a rear-view mirror with an electronic display, air conditioning and a powerful audio system. Awesome interior space decorated in cream or coffee tones. The car is available in two versions: with a standard double cabin (Regular) and an extended double cabin (Long). The latest version differs from the base one in a more spacious body (355 mm longer than the standard) and a wheelbase, which is also 355 mm larger than the standard.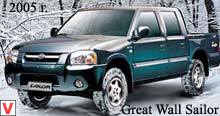 This pickup is the perfect combination of style and practicality. Great Wall Sailor is equipped with a reliable and economical engine of 2.3 liters capacity of 105 hp, the average fuel consumption - 9 l / 100 km. This gasoline engine with multipoint electronic fuel injection is licensed by Toyota. The engine is tested, unpretentious, it easily digests the 92nd gasoline, develops more power with low fuel consumption, while maintaining good environmental parameters. It does not create noise and vibration, which provides a cozy and calm atmosphere in the cabin. The power unit pulls well almost two-ton pick-up, showing a noticeable recovery on reaching 2500 rev / min.
It is proposed and diesel unit. It is economical, consumes little fuel, has good environmental parameters. It has significant power - 57 kW, with practical noiselessness. Security is another trump card in the Great Wall Sailor deck. Brake system with hydraulic booster provides stability control and comfort while driving. Brakes: front - disc, rear - drum. Fastening seat belts at three points makes driving easy, comfortable and safe. The ABS system, depending on the load, prevents lateral sliding and skidding.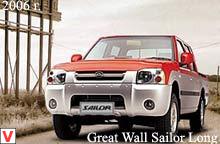 The front suspension is an independent two-bearing with telescopic springs, the rear - with asymmetric leaf springs with variable stiffness. The Great Wall Sailor is a vehicle for those who frequently travel on both urban and country roads, ideal for transporting small loads. Modern design, spacious and comfortable interior - these are the distinctive features of this representative of the Great Wall brand that has already become known on the Russian market.
Other autos category Great Wall