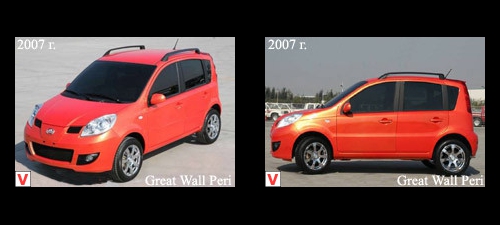 Peri - the first serial passenger car from the Great Wall, which was presented at the Beijing Auto Show. Production began in the fall of 2007 at a new plant in the city of Baoding in Hebei Province (China). According to official information, the manufacturer spent on the creation of this car for three years and 300 million yuan (about 40 million dollars). Compact, economical Peri looks funny, but quite modern. This five-seat A-class hatchback has a front-wheel drive and a high body. Dimensions 3548x1580x1544 mm. A sufficiently large ground clearance (145 mm) in combination with a short wheelbase and small body overhangs provide good geometric cross-country parameters.
Exterior fashionable with sporty features. Huge headlights and front bumper with a large air intake are striking the eye. Despite its compact size, the Peri is quite spacious, due to the vertical fit, it is not cramped either in the front or in the rear. The verified ergonomics of an interior, high-quality materials of furnish will present a feeling of comfort.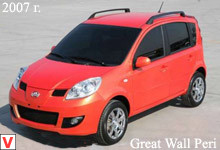 Suppose that the cabin is not so much a place, however, it is quite convenient to stay in it. Trunk volume is 206 liters. With the rear seats folded, the car can carry up to 860 liters of luggage. The power frame of the body includes high-strength front and rear reinforcement bars, as well as high-strength sidewall protection, which allows preserving the integrity and safety of the passenger compartment, ensuring the protection of passengers.
Motor - petrol, 4-cylinder, volume of 1342 cm ³, 87 hp Complies with environmental standards Euro 4. Fuel consumption per 100 km is 5 liters. The maximum speed of 160 km / h. Acceleration to 100 km / h is 17 seconds. So far, Peri is offered with a 5-speed manual gearbox, but the appearance of an "automatic machine" is also expected.
The hatchback has an independent MacPherson front suspension and a semi-independent rear suspension. This allowed to achieve excellent maneuverability and controllability of the car. A huge list of options: ABS, airbags, power steering, air conditioning, CD / MP3 radio, plus another 25 points - from alloy wheels to electric mirrors, depending on the configuration. Element Peri - loaded streets of the metropolis. Those who need an inexpensive, reasonably comfortable and very economical car with good driving properties will surely appreciate the novelty from China. Affordable value will allow Peri to become a worthy competitor in its class.
Other autos category Great Wall