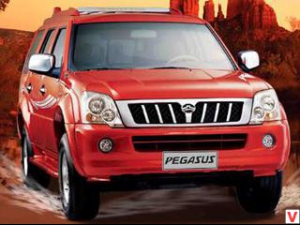 The Great Wall Pegasus is a mid-size 5-door SUV that was first introduced by the Chinese car company Great Wall in July 2006. Initially, the car was rear-wheel drive, but a little later, the manufacturer introduced the all-wheel drive version. The car body is based on the carrier frame. The wheelbase of the car is 2 760 mm, length - 4 6220 mm, width - 1 810 mm, and height - 1880 mm. Rather high ground clearance (205 mm) provides Pegasus with good cross. Reducing the distance between the axles of an SUV has a positive impact on its maneuverability.
Under the hood of the car Great Wall Pegasus is a multi-point injection engine 491QE Toyota (produced under license from the Japanese company Toyota) with a volume of 2.3 liters, whose power is 105 hp. Such a power unit is quite economical. In the combined cycle, fuel consumption is about 10 liters. As for the transmission, there is a 5-speed manual gearbox. It is worth noting that the transmission does not have a center differential, which confirms the right to be called Pegasus SUV.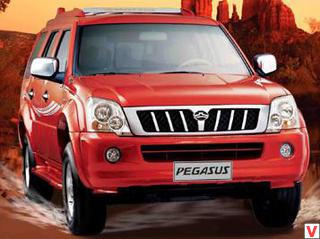 The mechanism for connecting the front drive electronic. This improvement made it possible to replace the three previously used levers to control the transfer case modes by one handle, at the turn of which the electric drive will do everything itself. Technically, the car is pretty well equipped. Here there is power steering, and even anti-lock ABS. The front suspension of the Great Wall Pegasus is a double-lever independent torsion bar, and the rear suspension is dependent with a continuous axle.
Because of the frame structure and the spring suspension, the car's course is quite tough and sensitive to minor irregularities. Trim is made of inexpensive Chinese materials. But the list of options with which the interior can be equipped pleasantly surprises. One of the main ones is a video system, which includes a video disc player, a TV set and video parking. The system accepts the format of a Video CD, and the discs are loaded only through the changer, which is located under the driver's seat. Also in the cabin has air conditioning, air ionizer, heated mirrors, electric windows and mirrors. Hard plastic trunk and upholstery leatherette seats are well cleaned.
The choice of the buyer is offered as light and dark trim options. The luggage compartment of the Great Wall Pegasus SUV is quite roomy and can be easily increased if you fold the rear row of seats.
Other autos category Great Wall