The Ferrari 456 M (Modificata) is a Gran Turismo sports car with a 2 + 2 landing scheme, which was produced by the legendary Italian car company Ferrari from 1998 to 2003. Being, in fact, a modified version of the car Ferrari 456, it also had in its row two options, which were the same names for GT and GTA, depending on the installed transmission. GT models equipped with a manual transmission, and GTA - automatic.
The body structure consisted of a steel frame and aluminum body panels that were attached to the body using a special technology. In the places of fastening steel and aluminum superimposed on each other in the form of a sandwich, which made it possible to weld them together. The new model Ferrari 456 M has undergone both external and internal changes in comparison with its predecessor. Changes regarding the exterior of the car were mostly aimed at improving the aerodynamic performance and cooling system. The car received a new front bumper with a new grille, which was integrated fog lights.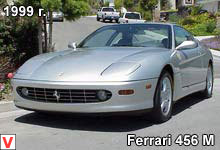 The engine of the Ferrari 456 M-V12 with a volume of 5.5 liters (the same was used in the model 456) became a little more powerful and produced 442 hp. instead of the previous 436 hp. Such an increase in power was achieved thanks to the new version of the Bosch Motronic 5.2 control system (the Bosch Motronic 2.7 was used on the Ferrari 456).
Note that in 2000 and 2001 this engine was the winner in the international nomination "Engine of the Year" in the class "over 4 liters". Actually the engine and served the appearance of the name of the model "456", since it is exactly the volume of each cylinder of the power unit. The performance characteristics regarding the maximum speed and dynamics of acceleration of the sports car remained the same. The speed of 100 km / h the car reached in 5.1 seconds, and the maximum speed of the car was 301 km / h. As mentioned earlier, the transmissions offered two: a 6-speed manual transmission and a 4-speed automatic transmission.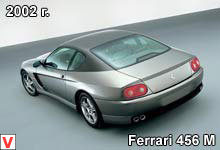 The transmission installation scheme was rather non-standard and was called Transaxle, the meaning of which was to achieve optimal weight distribution. This goal was achieved by posting weighty aggregates (engine and gearbox). The engine in front transmits the torque to the gearbox, which is directly connected to the rear gearbox. As for the interior, there are new seats and high-quality leather trim from Connolly Leather, as well as a new dashboard and stereo.
Other autos category Ferrari