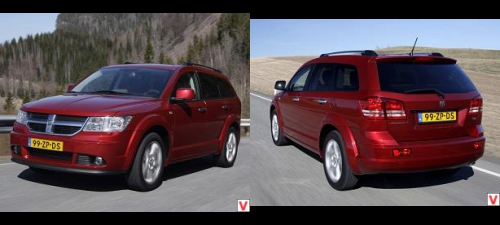 Dodge Journey is a solid and bright car that combines the characteristics of a minivan and an SUV. The model received a charismatic and recognizable appearance, excellent running and technical characteristics, a sonorous and bright name, which in translation means "journey". The premiere of the model was held in 2007 at the Frankfurt Motor Show.
Car sales in Russia began in 2008. Restyled version of the model appeared in 2010 at the Los Angeles Auto Show. The target audience of this model, the company Dodge calls young families. Despite its impressive size, the Journey is based on a platform for the compact Caliber crossover.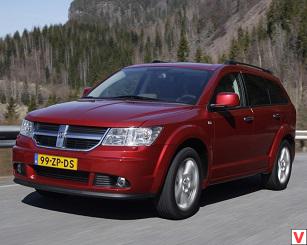 The car is distinguished by a stylish, impressive appearance, wide wheel arches, large windows and an athletic body. Due to the large ground clearance - 182 mm, the car can easily overcome various bumps, hummocks and other difficult sections of the road. Salon Dodge Journey is spacious and spacious. The standard car is five-seater, but for an additional fee, the number of seats can be increased to seven. The rows of seats are ledge: the second row is higher than the first, and the third is higher than the second.
Such a construction provides excellent visibility to all passengers. The second row of seats does not have separate seats, but is made of a monolithic sofa, which has the possibility of longitudinal adjustment. The Journey's trunk is quite roomy, but it is provided with folded third-row seats. If they are decomposed, then there is very little space left. In case of need of transportation of large-sized freights it is possible to put the second and third rows of seats.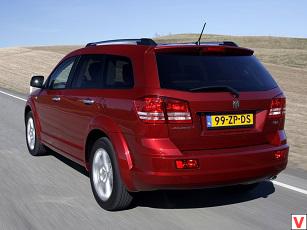 This creates a flat floor. As befits a family car in the cabin Dodge is full of all kinds of boxes, niches, glass holders, etc. In Russia, the Dodge Journey is offered in two versions: SE and R / T.
The SE is a four-cylinder inline engine with a volume of 2.4 liters and a power of 170 hp, which interacts with a four-speed automatic transmission. The R / T is a V-shaped six-cylinder engine with a volume of 2.7 liters and a power of 185 hp. in combination with a six-speed automatic. Four-wheel drive and more powerful engines (3.5-liter gasoline and 2-liter diesel) are offered exclusively in the States and in Europe. Suspension - independent for all wheels, front MacPherson and multi-link design from the rear.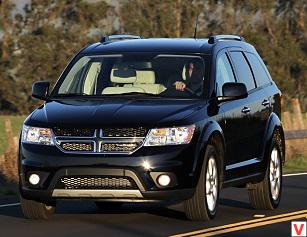 Journey is equipped with modern means of passive safety (active head restraints for the driver and front passenger, side and front airbags, seatbelt tension limiters, child seat anchorages) and active systems to prevent unwanted collisions (anti-skid system, ABS system, ESC systems). and Brake Assist). A high level of safety is also provided due to the presence of special deformation zones in the car body, absorbing the impact energy in the event of an accident. In 2011, Journey was seriously updated.
The car has acquired many successful changes: the front bumper and grille have become more streamlined and smooth, the exhaust pipes are decorated with lining of chrome, and the rear lights - LED sections. Journey 2011 is distinguished by 19-inch aluminum wheels and ground clearance increased to 197 mm. Changes are not spared and salon. Cheap plastic replaced higher quality. It is worth noting the excellent organization of the driver's seat - the seat is equipped with electric adjustment, besides the steering column is adjustable in height and departure, and on the three-spoke steering wheel covered with soft leather there are convenient control buttons for setting the car.
After restyling, Journey received a new suspension and an improved gasoline engine with 6 cylinders, the volume of which is 3.6 liters, the maximum power of 280 horses. In tandem with the engine works 6-band automatic transmission with Autostick function and electronically controlled, which transmits traction to all wheels. Torque is 342 Nm at 4350 revolutions per minute. In urban driving the car consumes 15.9 liters, on the highway 8.5 liters, and in mixed mode 11.3 liters per 100 kilometers. Acceleration to a hundred takes 8.4 seconds, and the maximum speed is 206 kilometers per hour. This fuel consumption is achieved through an intelligent system that controls all-wheel drive.
In normal driving, thrust is applied to the front axle, and when the road surface deteriorates, four-wheel drive comes to the rescue. The basic equipment is equipped with a leather-trimmed steering wheel, chrome-plated handles, climate control, Sentry Key immobilizer, 19 inch alloy wheels, USB connector, 12-volt socket, Keyless Enter-N-Go system (access and start of the engine without a key) , heated rear window and many other pleasant things. Among the options listed electric sunroof. Three additional equipment packages are offered.
Flexible Seating Group: convenient access to the seats, 2 and 3 rows, folding in certain proportions, three-zone climate control, air conditioning for the 2 and 3 rows. Driver Convenience Group: the presence of rear parking sensors and rear view camera. Rear Seat Video Group I: multimedia for 2 rows.
As a car designed to carry a large number of passengers, Journey is equipped with a sufficient amount of tools to ensure the safety of people in it. Four-channel ABS (anti-lock braking system), Traction Control (electronic traction control), Break Assist (emergency braking assistance system) and ESP (electronic stability control) are already in the basic configuration of the model. Front and side airbags of the first row and side curtain types of all rows of seats are responsible for the reliable protection of passengers in the cabin.
Other autos category Dodge