In 1992, Chrysler Corporation introduced a number of large cars built on the new platform LH - Chrysler Concord, Chrysler Vision, Dodge Intrepid (in some markets for Chrysler Intrepid), Eagle Vision. Outwardly, these models are very similar to each other. Dodge Intrepid, a front-wheel drive sedan with a longitudinal engine.
With its release, the Chrysler concern has forced many to change their attitude towards American cars. Take at least a list of standard equipment installed: air conditioning, Hi-Fi audio equipment, leather seats, electric windows, ABS brakes, autopilot. As options on the Dodge Intrepid mounted only CD-players, traction control, cup holders and a second airbag. The salon is very roomy and quite functional. Finishing materials are inexpensive, but everything is done qualitatively. The trunk is impressive, its volume is 470 liters.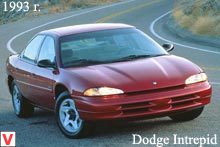 Up to 100 km / h, the standard 3.5-liter 218-horsepower (in Europe - 211 hp) six-cylinder engine with four valves per cylinder accelerates the car in 9.5 seconds. The maximum speed is 210 km / h. The car was equipped with a less dynamic 163-horsepower 3.3-liter V6 engine (maximum speed - 180 km / h, and acceleration to a hundred - 11 s). Fuel extravagance Dodge Intrepid due to the fact that the engines are aggregated with only four-band automatic transmission.
Since 1996, instead of it, they also began to mount the automatic gearbox Autostick (for all sedans, except for TSi modifications, on request) with a pneumatic gear shifting system, which is as close as possible to manual gearboxes in its characteristics and operation algorithm. Suspension does not succumb to such formidable obstacles as tram tracks or paving stones. In 1997, the second generation Chrysler Concord, Chrysler LHS, Chrysler New Yorker and Dodge Intrepid was born. This time, each model received an original appearance, but the base for all remained common. Exterior Dodge Intrepid second generation turned out fast and sporty. In the role of the driving force offered engines V6.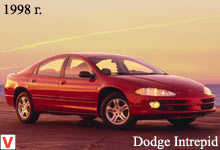 In Russia, the most common cars with a 2.7-liter engine, issuing 204 hp. (sometimes 200 hp or 203 hp is indicated). There Intrepid and with an engine capacity of 3.2 liters. It was usually put only on cars in the most expensive models.
However, the 3.2-liter unit had slightly more "horses" (226, according to other sources - 225 hp, and sometimes 228 hp). More on Intrepid put the power unit of 3.5 liters, with a capacity of 245 hp, but in Russia it is generally a rarity. Gearbox only automatic 4-speed. It is configured for a smooth and comfortable ride.
Other autos category Dodge