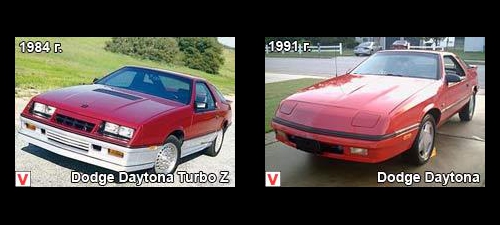 The Dodge Daytona is a front-wheel drive passenger car in a three-door hatchback, which was first introduced by the American car company Dodge in 1984. The hatchback was built on the Chrysler G platform, which in turn was developed on the basis of the Chrysler K platform. Initially, the engine's list of power units for the Dodge Daytona presented two engine options: the 4-cylinder Chrysler K engine with a 2.2-liter capacity and 93 hp. and its turbo version with a capacity of 142 hp. In 1986, a 2.5-liter Chrysler K engine with a capacity of 96 hp was proposed.
As for the transmission, for the entire production time, three transmission options were offered: a five-speed manual transmission, and three-and four-speed automatic transmissions. The brake system included front disc and rear drum brakes. In 1984, the Dodge Daytona was offered in three trim levels: basic, Turbo and Turbo Z. The Daytona Turbo version differed mainly in a turbocharged engine, while the Turbo Z also had external features: a spoiler, side skirts. But in 1985, the spoiler installed only on the Turbo Z version was offered for all configurations, and already in 1986 there were only two configurations left: the basic one and the Turbo Z.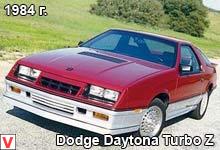 Also this year, the manufacturer offered the T-roof as an option (there were only sold 5,984 copies with such a roof). In 1987, Dodge Daytona underwent some external changes, the main of which was the renewal of the front of the car. Previously, the deep-set headlights replaced the folding, and the grille disappeared altogether, which gave the car a more dynamic look. This year, there was also a new modification called Shelby Z, which included the new 2.2-liter Chrysler K Turbo II turbocharged engine, whose capacity was 175 hp, and the car was equipped with rear disc brakes. In 1990, a 3-liter power unit 6G72 SOHC V6 from Mitsubishi was offered for Daytona. Its power was 141 hp.
In 1992, the car was subjected to a rather serious restyling. Dodge Daytona received updated front and rear parts with new headlights and decorative elements, as well as the sides, which received new moldings. A new turbocharged version of the 2.2-liter Chrysler K engine also appeared, called the Turbo III, with a capacity of 224 hp. It is worth noting that in the period from 1984 to 1986.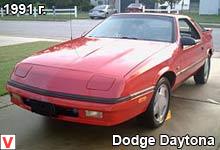 Chrysler produced a "twin" of the Dodge Daytona, which also had its own configurations. From 1986 to 1987 Dodge Daytona was sold in Canada under the brand Chrysler. March 17, 1993 production of the hatchback Dodge Daytona was completed. For all the time of production from 1984 to 1993. 49 347 copies of this car were produced.
Other autos category Dodge