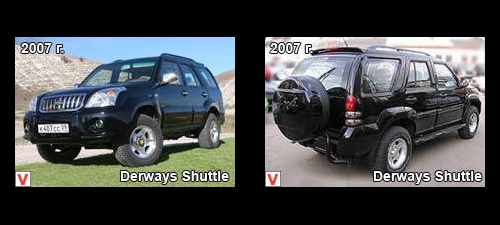 The Derways Shuttle car is a four-wheel-drive frame SUV in a 5-door body, which was first introduced by the Russian-Chinese car company Derways (Derways was organized by the Derevy brothers together with Chinese entrepreneurs and became the first private car company in Russia in 2002) in December 2005 of the year. At the heart of the Shuttle model is a powerful spar frame. The wheelbase of the car is 2,760 mm, length - 4,870 mm (with a spare wheel on the bracket, the length is 5,190 mm), width - 1,785 mm, and height - 1,780 mm (when installing two roof rails - 1 930 mm) . Also, the car has a fairly high landing - 230 mm, as befits a true SUV.
The manufacturer offers two versions of the car Derways Shuttle with markings "313120" and "313121", which differ in the engines and transmissions used in them. The modification "Derways 313120" is equipped with a 2.4-liter gasoline four-cylinder 16-valve engine Mitsubishi 4G64 S4 M with a complex microprocessor control system of the engine and forced circulation of coolant, whose power is 126 hp at 5,200 rpm.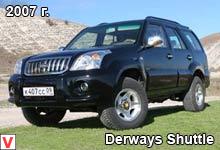 The transmission here is a 5-speed manual SC5M4D with synchronizers on all forward gears, and the Mitsubishi clutch, dry, single-plate with a diaphragm pressure spring, is paired with a two-speed transfer case (SC5M4D) with a demultiplicator.eot DW 10 TD, RHY with direct fuel injection, turbocharging, integrated microprocessor control system of the engine and forced circulation of coolant. Diesel engine power is 90 hp at 4000 rpm. Together with the "diesel engine", Machindra's 5-speed manual gearbox operates with synchronizers on all forward gears. Machindra transfer box is a mechanical 2-speed gearbox with modulator.
The clutch manufactured by VALEO, used here, is also dry, single-disc with a diaphragm compression spring. The maximum speed of both versions is 150 km / h. The suspension design for the Derways Shuttle modifications is the same. The front is an independent torsion bar 4-lever, with a lower arrangement of torsions, with hydraulic telescopic shock absorbers and a stabilizer bar, and the rear suspension is spring dependent, with telescopic shock absorbers and a stabilizer bar. Dual circuit braking system includes front disc and rear drum brakes.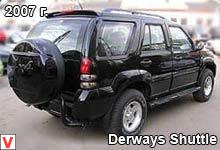 The interior of the Derways Shuttle is voluminous and due to its rather impressive overall characteristics it is able to provide a comfortable arrangement for five passengers. The front seats are adjustable for the longitudinal course and the angle of inclination of the backs. The back row is located slightly lower in relation to the front seat, as a result, the rear view of the seated passengers is limited. The steering column Shuttle has the function of changing the angle of inclination in different ranges.
Also, the car is equipped with power steering, electric windows and mirrors, central locking with remote control, CD player with sound system and air conditioning with electronic control.
Other autos category Derways