The Derways Saladin SUV was created by Chinese car builders in the image and likeness of the Nissan Paladin model, which repeatedly participated in the Paris-Dakar rally marathons. Also, this car can be considered as an analogue of the Nissan Xterra from the US market. Since 2006, it is being assembled from vehicle sets at a joint venture in Cherkessk (Karachay-Cherkessia). All components come from the factory Zhengzhou Nissan Automobile Co., and the assembly is essentially licensed Saladin control Chinese experts to meet the standards of Nissan. 5-door 5-seater car body is located on the frame. Its dimensions are 4550/1840/1880 mm with a wheelbase of 2650 mm and a track 1525/1505 mm.
The curb weight of the car is 1815 kg (1895 kg - for the version with a more powerful engine), the maximum gross weight is 2450 kg. The minimum ground clearance is 220 mm. The basic equipment package includes a height-adjustable steering column, power steering, 2 airbags, electric windows for all doors and exterior mirrors, central locking with alarm, a CD player, fog lights, air conditioning, a boot curtain, alloy wheels, side sills, a trunk rooftop and electric antenna. Top version 313170 additionally includes leather interior, immobilizer and parking sensors. Ergonomics salon at a high enough level. The front seats have double adjustment: height and angle.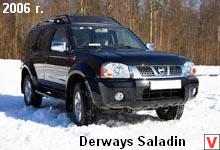 Visibility, due to the large glass area and large mirrors, is good. The internal volume allows you to feel the spaciousness both in front and in the second row. The volume of the luggage compartment is 1260 liters, which is enough for the transport of any medium cargo. The back of the seat folds in a ratio of 2: 3. The Saladin version 313140 is equipped with a 2.4-liter 4-cylinder 16-valve petrol engine Nissan KA24 with 150 hp.
(5,600 rpm) and with a torque of 208 Nm (3,600 rpm), and version 313170 - a 3.3-liter V6 Nissan VG33 with 170 hp. (4800 rpm) and with a torque of 265 Nm (3600 rpm). The first power unit is aggregated with a 5-speed manual gearbox, the second - with a 4-speed automatic. Saladin with a 2.4-liter engine develops a maximum speed of 155 km / h (gasoline consumption of AI-92 8 liters at 90 km / h), and with a 3.3-liter engine - 160 km / h.
The dynamics is 13.8 with up to 100 km / h. Rear car drive, with automatically connected front axle. Mechanical (manual) control of the transfer case with a multiplier is provided. The car combines comfortable handling on paved roads with the ability to move around rather seriously off-road without special training. The front suspension is independent torsion bar, rear - dependent spring.
Front brakes are ventilated discs and rear brakes. The car's security system includes airbags for the driver and passenger, ABS, EBD and a stoplight repeater. The standard tire size is 245 / 70R16.
Other autos category Derways