The Derways Plutus car is a four-wheel drive four-door frame pickup truck, which was first introduced by the Russian car company Derways (Derways was organized by the Derevy brothers and became the first private car company in Russia in 2002) in June 2007. SUV Derways Plutus is built on the basis of a robust chassis frame structure, to which all-metal on-board platform and cabin are attached. The wheelbase of the pickup is 3,380 mm, body length - 5,405 mm, width - 1,725 ​​mm, and height - 1,690 mm. Vehicle ground clearance - 200 mm.
The curb weight is 1,730 kg, and the gross weight is 2,605 kg. Permissible mass of the transported cargo is 500 kg. A four-cylinder 16-valve 4G64S4 engine with direct fuel injection from Mitsubishi with a volume of 2.4 liters, whose power is 130 hp, is installed under the hood of Derways Plutus. at 5,250 rpm.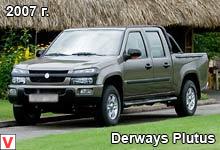 As for the transmission, there is a 5-speed manual gearbox with synchronizers on all forward gears. As mentioned above, all-wheel drive car with the ability to connect the front axle. The transfer case is mechanical, single-stage, but two-stage is also offered as an option. The maximum speed of the "Plutus" model is 150 km / h.
Front suspension SUV Derways Plutus independent torsion 4-lever, with a lower arrangement of torsions, hydraulic telescopic shock absorbers and anti-roll bar. The rear suspension is spring dependent, with telescopic shock absorbers and anti-roll bar. The design of a dual-circuit brake system includes a hydraulic drive with a vacuum booster and a brake force regulator. The front disc and rear drum brakes. The vehicle's technical equipment also includes power steering, mechanical anti-lock braking system (МABS), electric mirrors and glass, as well as climate control system. Seats, steering wheel, gearshift knob and cover are made in leather.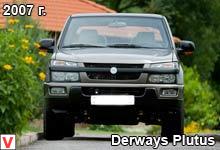 This car, thanks to its high seating position and all-wheel drive, is great for lovers of outdoor activities, hunting and fishing, as well as for trips to the country cottage. Production model Derways Plutus continues at the present time.
Other autos category Derways