The sports car De Tomaso Bigua was designed by renowned automotive designers Marcello Gandini and Alejandro de Tomaso. It was first shown in 1996 at the Geneva Motor Show and was called Mangusta. In the period from 1998 to 1999, the car was produced as De Tomaso, and from 2000 to 2001 wore the Qvale brand. The 2-door 2-seater cabriolet body had dimensions of 4194/1900/1275 mm, the wheelbase was 2670 mm, and the track was 1590/1580 mm. The curb weight of the car was 1,200 kg, and the allowable weight was 1,400 kg. The design of a folding metal roof in the likeness of a Mercedes-Benz SLK made it possible to adjust the top of the car open fully, with a targa, or close by pressing a button.
The average panel-targa could be removed manually, and the rear and side windows fell down. The interior design of the cabin felt the influence of Ford: in the elements of the dashboard and in the arrangement of controls. The car was equipped with climate control, CD audio system, power windows, central locking and leather seats. The naturally aspirated Ford V8 engine with distributed injection and a gas-distributing mechanism DOHC had a volume of 4.601 liters, its maximum power reached 304 hp. at 6500 rpm and torque - 395 Nm / 4800 rpm. The number of valves per cylinder at the engine was 4; the type of fuel used is AI-95.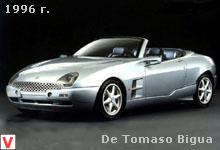 Such power units were also installed on Ford Mustang cars. Unlike other models of De Tomaso, which had a mid-engine layout, it was placed longitudinally in front of the Bigua. The dynamics of a fairly heavy car was impressive - 4.2 seconds to 60 mph (96.5 km / h). The engine was aggregated with a 5-speed manual gearbox Borg-Warner or with a 4-speed "automatic" with computer control. Driving De Tomaso Bigua provided rear-wheel drive. In the fully independent stiffer suspension coil springs were used front and rear. The weight distribution on the axes was perfect and was 50:50. Powerful brakes, both front and rear disc brakes were ventilated from the company Brembo.
Active safety system included ABS and Brake Assist Dortomazhivatel. The standard tire size was 255 / 40ZR17. Power steering was unnecessarily light, in American style, and did not give a complete sense of the road in corners. Workmanship and low-cost trim materials also fell short of the trendsetter in a sports car niche, in particular, such as the Porshe. The rest of the model was fairly balanced in terms of the main indicators and at the same time quite comfortable, in contrast to similar machines of European manufacturers. It is worth noting that in this class, Bigua had to compete with such models as Qvale Mangusta, MG CB and Porsche 911.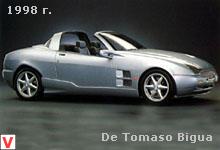 Bigua produced only about 500 units per year due to insignificant demand.
Other images auto De Tomaso Bigua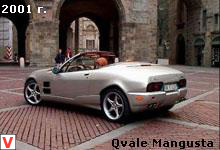 Other autos category De Tomaso