The compact Daihatsu Charmant sedan was built by this Japanese manufacturer based on the 70s Toyota Corolla. Its release began in 1975; in the future, the model repeated all the upgrades made with the Toyota Corolla. In addition to the domestic market of Japan, in small batches Daihatsu Charmant was sold on the UK market in the 80s. In the class of compact cars to which Charmant belonged, its competitors were Volkswagen Jetta, Rover 213/216 and Ford Orion. The car was offered in LC, LE and LGX pickings, differing in power units, transmissions and internal equipment. On the body extended warranty against rust for 6 years.
Initially, the model was offered in the back of a 3-door hatchback and was quite popular. Since 1982, it has been produced as a 4-door 5-seater sedan. The drag coefficient of the body was 0.4. Its dimensions were 4200/1620/1380 mm with a wheelbase of 2400 mm and a gauge of 1250/1240 mm. The curb weight of the machine 895 kg, full - 1000 kg. Ground clearance - 170 mm. The line of naturally aspirated carburetor engines with the ohc gas distribution system installed on the Daihatsu Charmant included 5 engines: a 1.3-liter 4-cylinder 8-valve 4K made by Toyota with 65 hp; 1.4-liter R4 8V T; 1.6-liter R4 8V 12T, 2T (75 hp) and 4A (78 and 83 hp / 5600 rpm, 130Nm / 3600 rpm).
The maximum speed of a car equipped with a 83-horsepower 4A engine reached 170 km / h; Acceleration to 100 km / h took 12.5 s, and the average gas mileage was 7.5 liters. With a 1.3 liter engine, the maximum speed is 150 km / h, acceleration to the "hundred" occurred in 14.5 s, the average fuel consumption was 7.4 l per 100 km. The engines were aggregated with both mechanical 4- and 5-speed gearboxes, and with a 3-speed semi-automatic gearbox. The model used rear-wheel drive. The suspension of the front wheels is independent with the MacPherson struts and coil springs, the rear ones are dependent on semi-elliptic springs.
A small turning circle - 9.6 m - ensured sufficient maneuverability of the car. Brakes were installed front disc, rear - drum. The standard tire size was originally 155 / 80R13, in the last years of release - 185 / 60R14. Production of Daihatsu Charmant continued until December 1988.
In the UK, the car was a success, even participating in the rally; there are still many fans of this brand.
Other images auto Daihatsu Charmant
Other autos category Daihatsu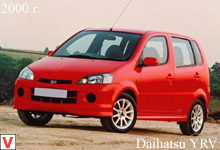 Daihatsu YRV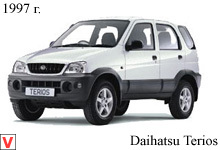 Daihatsu Terios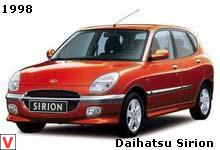 Daihatsu Sirion
Daihatsu Pyzar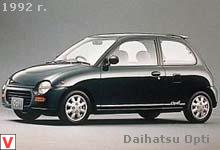 Daihatsu Opti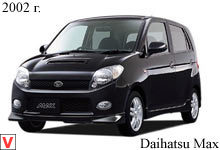 Daihatsu Max
Daihatsu Leeza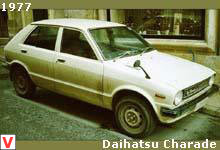 Daihatsu Charade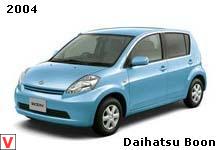 Daihatsu Boon