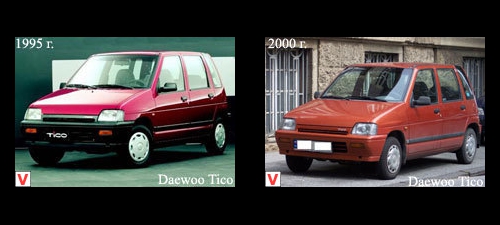 Daewoo Tico is a city car produced by General Motors (Daewoo) from 1991 to 2001. Tico was based on the Japanese car Suzuki Alto 1988 model year and was equipped with a three-cylinder petrol engine S-TEC of 796 cm³. The choice of the buyer offered a five-step "mechanics" or a three-band automatic transmission. Over the decade of production, the car has undergone significant changes and improvements several times, but they concerned mainly the engine. Exterior Tico distinguished sharp corners and broken lines of the body. The car had a decent for its class capacity and comfort, as well as decent dynamic performance and good smoothness.
Initially installed carburetor engine, 47 hp It was later replaced by an engine with fuel injection, which already met Euro 2 emission standards. The injector added power to the car, although many Tico owners consider the old carburetor engine to be of better quality. The Daewoo Tico has a surprisingly spacious interior for a minicar, even high drivers feel comfortable. Seats with high headrests have fabric upholstery and are equipped with inertial seat belts.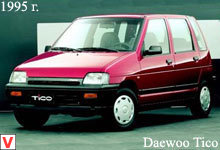 Salon easily transformed. The volume of the trunk is 145 liters, if you fold the back of the rear seat, then the volume of usable space increases to 1050 liters. The instrument panel is the most ergonomic and functional. All scales on the instrument panel (speedometer, coolant temperature and fuel level indicator) are colored blue. The car has excellent sound insulation. The model had two main configurations: STD and DLX. The standard version of the STD offered a 4-speed gearbox and leatherette interior. The DLX package includes: 5-speed gearbox, fabric upholstery, radio, electric headlamp corrector, heated glass on the rear door, wheel covers, additional rear fog lamp.
As options for the Daewoo Tico DLX was offered air conditioning and electric front windows. This maneuverable, compact and easy-to-manage model is primarily designed for use in urban environments. "Traffic jams", traffic jams, narrow streets, cramped parking lots - this is his habitat. The width of the car is only 1.4 m. The turning radius is 4.4 meters. Tico was mainly exported to Eastern Europe. These economical and compact avtomobilchiki were and remain extremely popular in countries such as Romania, Bulgaria, Poland, the Czech Republic. Peru is the only country in the Americas where these city children were officially supplied.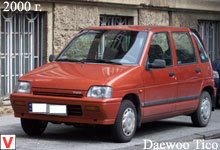 Daewoo assembled Tico at the old Romanian company Oltcit.
Other autos category Daewoo