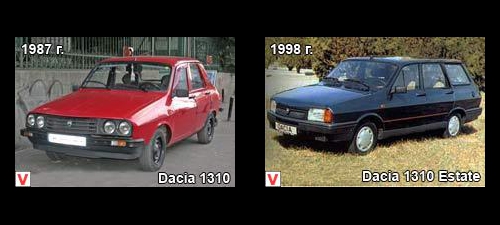 Model Dacia 1310 is a small passenger car, which was produced by the Romanian automobile company Dacia. The debut of this model took place at a car show in Bucharest in 1979. This car was built on the basis of the previously released model 1300, or rather it was its updated version and was offered in two body styles: 4-door sedan and 5-door station wagon (Estate). As for the external changes, the Dacia 1310 sedan received: an updated front part with new headlights, new brake lights at the back, as well as updated front and rear bumpers.
The wheelbase of the car was 2,441 mm, length - 4,390 mm (in the station wagon body - 4,410 mm), width - 1,635 mm, and height - 1,460 mm. Updates touched and interior - it has been completely redesigned. It is worth noting the high reliability of this car. He was very popular in Europe.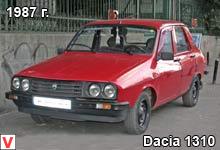 Model Dacia 1310 was exported to many countries of the world such as South America, Great Britain, Canada. For the Dacia 1310, several engine options were offered: a 1.4-liter engine with a power of 62 hp. at 5000 rpm and a 1.3 liter engine, whose power was 54 hp at 5,250 revolutions. Both engines were carbureted and installed in front longitudinally. Also offered, and two transmission options: 4-speed and 5-speed manual transmissions. The front suspension of the Dacia 1310 included wishbone with rods, coil springs and shock absorbers.
The rear suspension in turn consisted of a rigid bridge on longitudinal and triangular levers, helical springs and shock absorbers. Also, the car was equipped with anti-roll bars front and rear. The design of the brake system included the front disc and rear drum brake mechanisms. In 1988, on the basis of model 1310, a car was built under the name Dacia 1320 CN1, which was produced in a 5-door hatchback body. The car also, unlike the "1310", received a new power package and climate control system.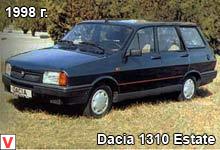 In 2002, in connection with the purchase of Dacia by the French concern Renault, the fate of the obsolete Dacia 1310 family was sealed.
Other autos category Dacia