Shery QQ class A subcompact city car made its debut on the Chinese market in the fall of 2003. Since then, this light and nimble front-wheel drive hatchback has become a real best-seller of the Chery brand. In China, it is known as QQ3 and S11. This model is also collected in Iran (where it is called MVM 110) and Indonesia. Since autumn 2005, Chery QQ started selling in Russia under the name Sweet. Basic equipment includes air conditioning, power steering, power accessories, radio and alloy wheels R13. The list of additional options is not so significant and includes an automatic transmission, ABS, two airbags and a sunroof.
The exterior and design of Chery Sweet are the result of the "cloning" of the first-generation Daewoo Matiz, which at one time was the reason for the trial with the concern General Motors (owner of the brand Daewoo). Sweet looks European. The color scheme of cars consists only of bright colors: yellow, red, green, bluish-silver. Unlike other models of this class, the moldings, bumpers and side mirrors on Sweet are already painted in the body color in the basic configuration. Car inside more than it looks outside. The salon is spacious enough for four people of medium build. Finishing materials of acceptable quality, two-color front panel and light upholstery make the interior cozy.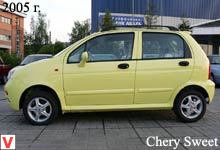 Landing on the driver's seat is high, the review is good, but the arrangement of the steering column, pedal assembly, exterior mirrors and other controls will suit the miniature driver rather. Sitting in the back will not suffer from a shortage of space for the head, legs and shoulders, provided that these passengers are no more than two, and their height does not exceed 180 cm. The luggage compartment volume is 165 liters, you can put an umbrella and a first aid kit. To accommodate luggage, there is a folding rear seat backrest in parts. In this case, its capacity reaches 625 liters.
Two engines are installed on Sweet: the base 3-cylinder 12-valve SQR372 with a volume of 0.812 l (51 hp, 70 N m) and the 4-cylinder 8-valve DA465Q with a volume of 1.05 l (52 hp, 83 N m). Both engines with distributed injection, differ modest appetite: an average of about 5 liters of petrol AI-92 in the urban cycle. Acceleration to hundreds for a car with an engine of 0.8 liters, according to the manufacturer, takes 13 seconds (actually –20 seconds). The maximum speed of 135 km / h (140 km / h for the engine of 1.05 liters). Both engines are completed with either the traditional 5MKPP or the new EZ-drive robotic gearbox developed in China.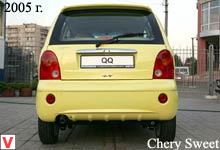 It allows you to switch speeds in two modes: automatic and sequential, with the latter manual switching is much easier. As the manufacturer Chery Automobile Co., Ltd, EZ-drive analogue is used in cars, "Formula 1". Chery Sweet's suspension is relatively simple: MacPherson strut with springs in the front and torsion bar with a solid axle in the back.
Front disc brakes, rear-drum. ABS and EBD systems are optional. Handling is generally good, not counting the excessive sensitivity of the steering wheel, which requires extreme accuracy when driving at speeds above 80 km / h.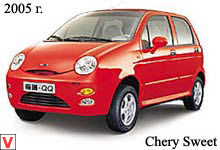 The car is light enough: curb weight of only 880 kg, and the full-1225 kg. What is not less important, ground clearance at full load is 125 mm for a model with a 0.8 liter engine and 115 mm for a model with a 1.05-liter engine.
Other autos category Chery