In 2004, the Chery B14 protopit was presented at the Beijing Motor Show. Serial production began only in 2006. This five-door wagon class C has all the components of a modern car: power, elegance, comfort. Nice design was created by professionals of the Japanese studio SIVAX. The exterior of the car pleases the eye with its fast-moving body lines and harmonious proportions. The front part of the station wagon is crowned with an expressive grille and large headlights. The main feature of this model is a spacious, multifunctional seven-seater salon with three rows of seats and a high roof, which provides the broadest opportunities for transformation.
Wide rear doors provide easy access to the rear seats. By the way, the middle row of seats is mounted on a sled, so there is plenty of legroom. Interior decoration and driver's ergonomics at the proper level. Inside, many glove compartments and pockets. For the convenience of the driver's seat is adjustable in six directions, which will allow everyone to find the optimal position. Particularly noteworthy car equipment.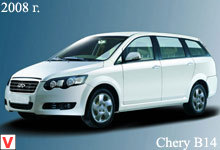 Already in the basic version, the B14 offers climate control, an on-board computer (fuel consumption sensor), alloy wheels, electric adjustment of rear-view mirrors, front and rear window windows, power steering, adjustable steering wheel height, immobilizer, central locking with remote control, CD changer for six discs and six speakers. In a richer package includes a multimedia system with three monitors that are mounted on the instrument panel and in the headrests of the front seats. Under the hood, the engine Mitsubishi displacement of 2.4 liters. and a power of 130 hp, which allows you to accelerate the car to 180 km / h. The car is equipped with a 4-speed automatic gearbox.
Fuel consumption is 12 liters. in city mode and only 8 liters. beyond it. With all its length, the car is very maneuverable and perfectly obeys the steering. Chery B14 domestic roads are not terrible, because it is equipped with an independent McPherson front suspension and a rear one with a stabilizer. Passenger safety is provided by ABS and EBD systems, as well as two frontal airbags and two side airbags for the driver and the passenger seated on the right. The car is equipped with front and rear fog lights and a headlight light adjuster, which helps the driver in the dark and in bad weather conditions.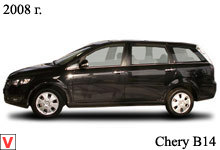 In the markets of other countries, Chery B14 is sold under the names: V5, CrossEastar, Langie or Crossover.
Other autos category Chery