The Brilliance M2 is a compact, four-door, business-class sedan that has been manufactured by the Chinese company Brilliance China Auto since 2007. The premiere of this model was held at the ninth Beijing Auto Show in April 2007. In August 2007, the company planned to launch the Brilliance M2 in the German automotive market - the largest market in Europe. However, following the Brilliance M1, the German Automobile Association (ADAC) conducted a Brilliance M2 check for compliance with EuroNCAP safety standards.
After the crash test, which showed very disappointing results, the Chinese company Brilliance was forced to postpone the start of sales of its cars in the western market until September 2008. For this month, manufacturers had to refine the car, eliminate the flaws and achieve compliance with their strict European safety standards. Initially, the Brilliance M2 was equipped with a 1.8-liter four-cylinder Mitsubishi G93 engine, with which Brilliance has long been completing its cars. The power of such a power unit was 134 hp, at 6500 rpm. The maximum speed for a car with such a motor is 185 km / h.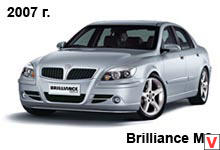 At the moment, Brilliance engineers have independently developed two new 1.8-liter engines with turbocharging, 148 hp. and 168 hp Cars equipped with such engines have already gone on sale in the Chinese automotive market. In addition, the development of a diesel power unit is underway, which will be included in the basic equipment for cars exported to Europe. Cars sold in the Chinese market are equipped with a four-speed automatic transmission. Car Brilliance M2 has a wheelbase length of 2790 mm. As for dimensions, the length of the body is 4,648 mm, width - 1,800, and height - 1,450 mm.
The technical equipment of this model includes front and rear disc brakes, power steering, front and rear fog lights, anti-lock system with brake force distribution (ABS + EBD + EDS), front and side airbags for the driver and front passenger, seat belt pretensioners. Over the body design Brilliance M2 worked well-known Italian company Pininfarina. The car has a pronounced sporty silhouette and a shorter length compared to the Brilliance M1, which makes it more maneuverable and dynamic. The interior of the car pleasantly surprises with its luxury and functionality.
Leather interior, air conditioning, power windows, rear parking radar (parking sensors), ample opportunities for adjusting the driver's seat, audio system with CD or MP3 player, internal air filter - all this is designed to make the driver stay, and passengers in the car as comfortable as possible. However, the Brilliance M2 model is not equipped with an electronic security system (ESP), unlike most European competitors in this class. At the moment, "Brilliance" is only trying to arrange sales in Europe - the company has already entered into an agreement to supply 158,000 vehicles over the next five years.
Buyers are still suspicious of Chinese exports, mainly due to the low level of security.
Other autos category Brilliance