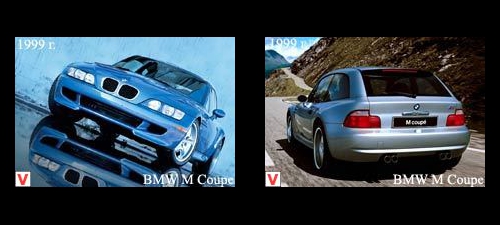 BMW M (corporate name: Motorsport GmbH) is a subsidiary of BMW AG. Established in May 1972. BMW M, also known as M-Technik or simply "M" (from Motorsport), was originally created to support BMW's racing program, which was very successful in the 1960s and 1970s. Since then, the sports series M has traditionally been present in the BMW model range for many years.
After completing work on the BMW M Roadster, the German company began to develop a closed version of this car, which was named the BMW M Coupe. The debut of a two-wheel-drive sports coupe took place in 1998. The main thing in the M Coupe is the engine. Under the hood, inline six-cylinder engine with variable valve timing system "Vanus" and the letter M on the decorative cover. The volume of the power unit of 3.2 liters power 321 hp The maximum speed of 250 km / h. Acceleration time 0-100 km / h is 5.4 seconds. On a series M installed mechanical 5-speed gearboxes.
It is noteworthy that in the M Coupe there are no electronic-mechanical systems that protect against loss of exchange rate stability, with the exception of ABS. The ideal weight distribution along the axles (50 to 50), body rigidity, and most importantly, the experience of Bavarian engineers and testers, ensured excellent handling. Body shape peculiar. Overall dimensions are 4025x1740x1280 mm. The wheelbase is 2459 mm. The drag force of the M Coupe is quite large, as a result, the drag coefficient is large, Cx = 0.38. For all its sportiness, the car is quite comfortable and not tiring to drive.
Engineers from Bavaria found a very good compromise between comfort and handling. The M Coupe has an excellent visibility back. The bucket seat provides excellent lateral support and distributes the load perfectly. At the same time, they are not very strict, it is quite convenient to sit down and get out of the car. The position of the steering column is not adjustable. In the spring of 2001 updated power unit. In the role of the main driving force offered the engine volume of 3.25 liters with an increase from 321 hp up to 325 hp power.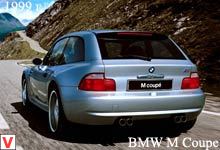 The standard equipment includes proprietary dynamic stabilization systems for DSC driving and tire pressure monitoring. M Coupe - extreme car. And it was created, especially for people who know how and want to drive fast.
Other autos category BMW