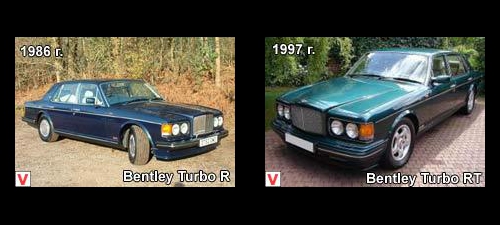 The Bentley Turbo R is a high performance luxury executive sedan from Bentley Motor. The first model Turbo R was introduced in 1985. Production of this model went until 1997. Bentley Turbo R has achieved such a high sales volume that it has become one of the best-selling Rolls-Royce models ever.
The chassis for the Turbo R was borrowed from the Bentley Mulsanne Turbo model, as well as the Rolls-Royce turbocharged engine with a volume of 6.75 liters. However, the engine was reconfigured in connection with the equipment of the new electronic fuel injection system Bosch MK-Motronic, which allowed to increase the maximum torque. Installed on the car 3-speed automatic transmission (TH400). Although official figures were never presented by Rolls-Royce, according to experts, the power of the car was 298 hp with a maximum torque of 660 Nm.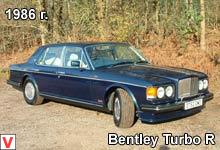 Of the features of the technical equipment, it is worth noting the sporty tuning of the suspension and the wider tire on the cast rims. All this was first used on Bentley civilian cars. Changes in the settings of the transmission allowed the heavy car to stay on the road perfectly, allowing the driver to feel more confident. Turbo R was equipped with an improved anti-slip system and shock absorbers, which gave the car an extra smoothness, "swallowing" bumps. The suspension was also equipped with an anti-roll bar (pan-bar), which prevented the car from swinging sideways on bends.
The spring stiffness coefficient is the same as that of the Bentley Mulsanne. The interior of the Bentley Turbo R is fully consistent with the status of a luxury executive sedan. The quality of the trim was impeccable. The main finishing material was high-quality leather. The controls and other elements of the cabin were made of polished chrome steel. In 1995, the updated Bentley Turbo R was released.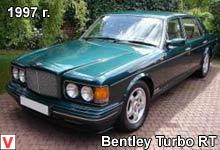 The engine of the updated car was equipped with a fuel injector from Zytec. And also installed a 4-speed automatic transmission (4L80-E). In 1997, the new model Bentley Turbo RT replaces the Turbo R. Under the hood of the novelty was a V8 engine with a volume of 6.8 liters, whose power was 400 hp. The external distinctive features of the model Turbo RT include: sports wheels, a new grille and new bumpers.
The RT model was the last in the "Turbo" series, being the most powerful and at the same time the most rare and expensive of all the other models in this series. The price of the Bentley Turbo RT was $ 211,600 (the price of the Bentley Turbo R, in turn, was $ 145,000). Production of this car was discontinued in 1998.
Other autos category Bentley