AUDI RS4 - high-power sports modification Audi A4 with a 2,7-V6-Biturbo engine. According to the company, it occupies an intermediate position between conventional and sports cars. In the autumn of 1999, the Audi RS4 premiered, which immediately won the title of the most powerful serial wagon in the world. Its 2.7-liter V6, fitted with twin turbocharging. The RS4 model differs from the S4 Avante in that it is equipped with an engine, for which another cylinder head and non-standard crankshafts are manufactured using a special technology. As a result of improvements RS4 engine has a capacity of 380 liters. s., which allows the RS4 to accelerate to a speed of 100 km / h in 4.9 seconds.
These figures are comparable with some models of Porsche and Ferrari. The maximum speed according to generally accepted rules is limited to 250 km / h. Modifications RS4 is equipped with exclusively four-wheel drive, the suspension of these cars is different sports tuning: front and rear arms are, as well as anti-roll bars. Excellent dynamic performance combined with the highest level of comfort and safety. The salon is equipped with Recaro sports anatomical seats, a small three-spoke steering wheel and rich trim, decorated with polished carbon fiber inserts.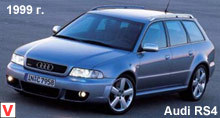 The basic equipment includes automatic climate control, an advanced BOSE audio system, a stiff sport suspension and 18-inch alloy wheels, shod in sport tires. As befits an exotic sports car, these cars are dramatically cheaper at resale - at least two times cheaper than a new car. To purchase a used sports car should be approached with extreme caution.
After all, the first owner did not buy it at all in order to comply with the speed limits. Therefore, numerous technical problems are possible, despite the low mileage and the "youth" of the car itself. So, high-speed driving on our roads can quickly lead to an unusable condition of the suspension. Due to abrupt starts there may be problems with the clutch and the engine. Attention should be paid to the state of the brakes, which are expensive ... Of course, when buying an RS4, you should be prepared for high repair and maintenance costs. Service - only authorized.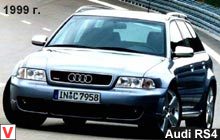 You can't find unauthorized spare parts in the afternoon with fire, but branded ones are expensive. For example, if in the official dealer store the front brake disc for a regular "A4" costs $ 85, then a similar item for " RS4 "will cost $ 467. A similar trend is observed in the prices of other parts.
In short, buying RS4, you become the owner of not only a car, but an extreme" car ", which is better reserved for summer weekends. In 2002, the German company Audi ceased production itself" charged "modification A4, built on the basis of the previous generation of this mid-size model. This model was produced at two factories of Audi. Assembly began on the conveyor line model A4 in Ingolstadt, and ended at the factory subsidiary quattro GmbH. Due to the complexity of installation, each car was assembled by hand and passed the most severe quality tests.
Only a few Audi RS4 cars were manufactured per day.
Other autos category Audi