The company Aston Martin, having the reputation of the manufacturer of uncompromising supercars and premium sports cars, has launched a model with the size of a minicar on the market, which really surprised the world community. Extremely atypical for the Aston Martin brand, the Cygnet miniature urban hatchback was put into production in order to fulfill the EU requirements for limiting the average for the brand indicators of fuel consumption and emissions. In the form of a concept car, the model debuted at the Geneva Motor Show in 2010, and in January 2011, the car was put into mass production. In fact, this luxury city car with a 2 + 2 fitment is a redesigned Toyota iQ.
Their technical filling is the same, however, significant changes have occurred in the exterior and interior. Specialists of the English brand supplemented the Japanese car with signature features, including the front and rear lighting of a characteristic shape, the front air intake, designed in the traditional style of Aston Martin, as well as the aerodynamically developed bumper. The interior is distinguished by a rich decoration of elite materials (leather, aluminum), complete the picture with a large number of various electronic and multimedia systems.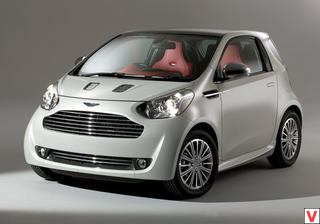 The Aston Martin Cygnet equipment list includes a satellite navigation system, automatic climate control, a 6-speaker audio system, power accessories, keyless entry and starting systems, child seat brackets, etc. Under the hood, Cygnet is a modest Japanese 1.33-liter 98-liter 4-cylinder gasoline engine. from. and torque of 125 Nm at 4400 rpm. Up to 100 km / h, the car accelerates in 11.6-11.8 seconds, depending on the type of gearbox - a 6-speed "mechanics" or a variator.
With the "mechanics" is also supplied the system "Star / Stop", which allows to save fuel in traffic jams. Fuel consumption does not exceed the mark of 6.1 liters per 100 km. Maximum speed - 170 km / h. There is also a special version of the hatchback. The design of the limited edition was attended by the designers of the French fashion house Collette. The car received the original color of the body - silver with blue accents on the hood, false radiator grille, wheel disks, as well as on the side mirrors. The interior of this version is sheathed in brown leather, and two pillows of heavenly color come complete with the machine of this series.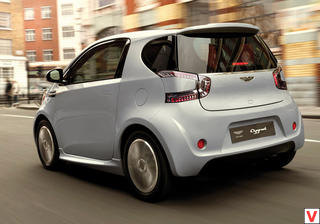 The car is produced at the factory in English Gadon. Most of the assembly work is done manually.
Other autos category Aston Martin