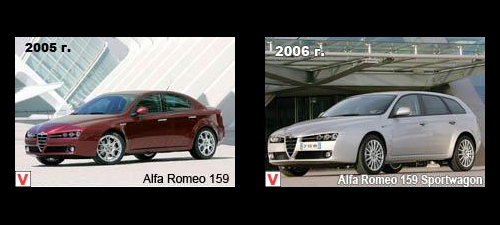 The Alfa Romeo 159 was first unveiled at the 2005 Geneva Motor Show in a sedan. The novelty is built on the platform of Fiat Premium, which was used in models of Brera, Spider and Kamal concept car. Appearance Alfa Romeo 159 was created by Italian designer Giorgetto Giugiaro in conjunction with the company Alfa Centro Stile. The style of the new car has much in common with its predecessor - Alfa Romeo 156. We note that when creating, the developers were based on the concept coupe Alfa Romeo Brera, which was introduced in 2002. The front of the car has a traditional V-shaped grille.
Grouped cylindrical headlights are located under, hanging over them, part of the bonnet, which gives the car a more aggressive look. The model has a rather dynamic silhouette, with clearly marked lines. Compared with the Alfa Romeo 156, the 159th became larger, which in turn increased the space in the cabin. The wheelbase is 2700 mm, the length of the car is 4680 mm, width - 1828 mm, height - 1417 mm. The interior of the Alfa Romeo 159 is quite restrained and quite aesthetic.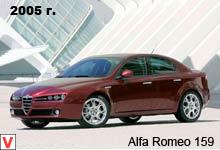 Alfa Romeo has always been famous as a car manufacturer for the driver, so you can see that the dashboard is noticeably turned in the direction of the driver's seat. Round dials of instruments, polished metal trim, give the cabin sporty features. Alfa Romeo 159 is offered to the buyer with both front and all-wheel drive under the name Q4. The all-wheel drive system uses Torsen III technology with dual differential. Torsen technology was developed by the American corporation Gleason. The name Torsen is short for TORque SENsing, which translates as a "feeling of torque." By default, 57% of torque is back, 43% is up front.
For all-wheel drive models, two versions of power units are offered: a 3.2-liter gasoline engine with 260 hp. and a 2.4-liter diesel capacity of 200 hp. (until 2007). The front-wheel-drive models are fitted with gasoline engines of 1.9 (160 hp), 2.2 (185 hp) liters and 1.9 liters (150 hp) diesel engines. All 3 variants of the gasoline engine system JTS (Jet Thrust Stoichiometric), that is, the system of direct fuel injection. As for the transmission, new gearboxes were developed for the Alfa Romeo 159: a manual gearbox with a sports shift mechanism, a Selespeed robotic and an automatic QTRONIC gearbox. All of them are 6-staged.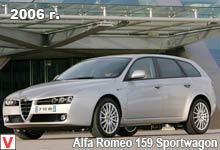 Standard equipment includes: anti-lock braking system (ABS); emergency brake assist (Brake assist); electronic brake force distribution (EBD), driver and passenger airbags, side airbags, belt pretensioners; "Active" head restraints, attachments for child seats, electric front and rear windows; heated mirrors; electric mirrors; climate control; on-board computer; remote opening of the trunk lid; remote opening flap gas tank; automatic inclusion of headlights; headlight adjustment; power steering; adjustable driver and passenger seats in height; central locking; immobilizer; electronic key identification system; audio preparation; CD player; alloy wheels; body color bumpers; fog lights.
Additional equipment includes: cruise control; navigation system; Rain sensor; management of vehicle functions on the steering wheel; heated front seats; electric driver and passenger seats; leather interior; xenon headlights; headlight washer; MP3 recorder, CD changer, amplifier and subwoofer. In 2006, at the Geneva Motor Show, the Alfa Romeo 159 was presented in a station wagon. In 2007, engineers increase the power of the 2.4-liter diesel engine to 207 hp. At the 2007 Geneva Motor Show, Alfa Romeo shows off the sports TI (Turismo Internazionale) versions of the sedan and station wagon of the 159th model.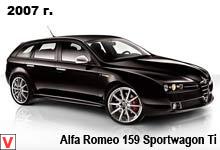 The Alfa Romeo 159 TI sports car received a new aerodynamic package, lowered sports suspension, large-diameter tires, 19-inch alloy wheels, Brembo brakes with red painted calipers, chrome exhaust pipes and the same exterior mirrors. The optional differences between the TI and the "civilian" models include: heated sport bucket seats; leather trim steering wheel and gear lever; sporty-styled fixtures, aluminum pedals. The sedan and station wagon 159 TI can be equipped with diesel or one of the gasoline engines, including the top version 3.2 V6 with all-wheel drive system. Cars Alfa Romeo 159 TI can be painted in three colors: red Alfa Red, gray Stromboli Gray and black Carbonio Black.
2 V6 with all-wheel drive system. Cars Alfa Romeo 159 TI can be painted in three colors: red Alfa Red, gray Stromboli Gray and black Carbonio Black. 2 V6 with all-wheel drive system.
Other autos category Alfa Romeo